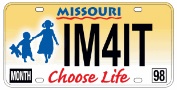 Last week a federal appeals court upheld a lower court ruling requiring the Missouri Department of Revenue to issue a license plate with a pro-life message:
A non-profit group, Choose Life of Missouri Inc., applied in 2005 to have specialty plates reading "Choose Life" included among the plates available to Missouri drivers. A legislative committee rejected the application based on the objections of two lawmakers.

The group sued, and in 2008 a federal district court ruled in its favor, finding a portion of the law governing specialty plates to be unconstitutional and requiring the Department of Revenue to issue the "Choose Life" plates.

The Eighth Circuit Court of Appeals upheld both the lower court's orders.

The appeal turned on whether a specialized license plate issued by the state represented the private speech of the driver or the government speech of the state.

Reflecting the lower court's view and rulings in other courts across the country, the Eighth Circuit found the plates to be private speech. Thus, it ruled, a legislative committee had no authority to deny issuance of a plate based on the views of its sponsors.
MO Choose-Life license plates are available online at ChooseLifeMissouri.org