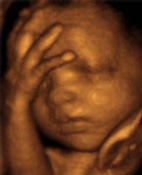 Ultrasounds, hearing a baby's heartbeat, a baby feeling pain during an abortion and protections for a minor if found to be a victim of rape or incest: these are the substantive issues of what HB 1327 & 2000 will put into Missouri law if it passes the Missouri Senate.
"This important legislation will expand the informed consent laws and will save the lives of unborn children and protect their mothers," said Pam Fichter, President of Missouri Right to Life. "We commend the Missouri House of Representative members that voted for this important pro-life bill," she said.
Fichter continued, "Many women considering an abortion will choose life for their unborn children because of the information they receive on fetal pain or because they can see the ultrasound image of their babies' heartbeat. This bill also ensures that rapists or those who commit incest are reported and held accountable."
A woman's choice to abort her child should not be made without full and complete consent, and HB 1327 & 2000 will make sure that women receive all available information and that their choice will be made freely and without coercion.
ACTION NEEDED!
Please call your State Senator and ask them to take all necessary measures and pass HB 1327 & 2000 or the Senate version of the bill (SB 793 or SCS SB 792) to protect women and their unborn children. This legislative session ends on May 14th. We have six weeks to get past the filibuster in the Senate and pass this critical pro-life bill.